Artificial Intelligence makes
ADAS evolve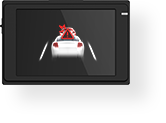 With NPU, ADAS is fast and accurate.
In order to recognize the situation on the road in real time, artificial intelligence is essential for ADAS.
Dashcam with NPU blocks delivers high speed and accuracy that is impossible with CPU only.
With AI, Dashcam demonstrates advancing image recognition technology :
Lane detection, Front Collision Warning, Pedestrian Detection, Moving Object Detection, traffic signals distinction etc.